Fallen Royal Marines Manchester cenotaph service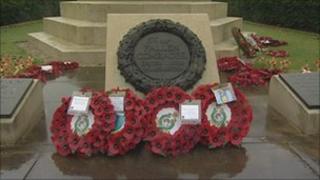 A memorial service has been held in Manchester to remember Royal Marines who have been killed in Afghanistan.
The ceremony, held by the Royal Marines Association, was to honour 14 members of 40 Commando, killed since 2001.
Among those paying their respects was Kate Darbyshire, the partner of Wigan Marine Sgt Steven Darbyshire, who was killed in Sangin on 23 June 2010.
A Marine bugler played as Manchester's Lord Mayor and veterans laid 14 crosses at the St Peter's Square cenotaph.
She said that Sgt Steven Darbyshire, 35, was on security patrol in Sangin when he was killed in a firefight on 23 June.
'Young men'
Ms Darbyshire, the mother of Sgt Darbyshire's two young children, said: "This has affected so many people in so many different ways and you just assume that when you hear about war memorials and services like this that they are going to be about older people.
"But the 14 crosses that were laid today were for the young.
"They were all young men with families."
Sgt Darbyshire, 35, was on a security patrol when he was killed in a firefight.
Regimental Sergeant Major Joe Gillespie of 40 Commando, who attended the service, said: "It is a very, very sad state of affairs, but most people are quite pragmatic in their approach.
"We always remember what happened in the past, but we always look forward as well.
"We'll be deploying again at some time in the future no doubt.
"So we remember and honour our fallen comrades, but we still look forward to the next time we go and train professionally."