Kill Van Kulls' faith rewarded with Fools Wish single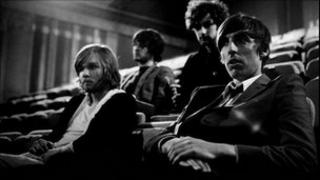 The Kill Van Kulls have said the release of their debut single is a result having faith in their music.
The band, one of the hits of 2010's In The City in Manchester, are releasing Fools Wish through Manchester label, High Voltage.
Singer Gareth Bartlett said the band had had "ups and downs" since their sets at the prestigious event.
He said they had left the band "wondering if the momentum is going to keep up".
The Kill Van Kulls first came to local attention in mid 2010 and built up a buzz that saw them being taken on by manager and High Voltage label boss, Richard Cheetham.
Their rising star culminated in appearances on the official showcase events at In The City.
Gareth said that they were just happy to be involved and when they started hearing good reports of their shows, he was initially worried about what would happen next.
He said his fears were allayed when "the reviews kept coming in, the momentum kept going and one thing after another, it kept evolving".
"It's had its ups and downs and it'll peak every now and then, but it's going good," he said.
'An anthemic sound'
One such highlight was an appearance on Chris Moyles's Radio 1 show as part of the In Music We Trust takeover of the BBC station in January 2011.
Gareth, who was interviewed on the show, said the experience had been a surreal but positive one.
"It was a bit of bizarre to be exposed to such a big audience, but what more exposure could we have wanted to start the year with?
"He was kind and very complimentary about [Fools Wish] being a big pop sound, an anthemic sound, and he said he could hear at it being played at festivals in the summer.
"We couldn't have asked for more than that."
National radio play aside, band member Chris Milton agreed that the band had been wary of opinions but said that they were following a simple policy in their approach to putting out their music.
"You just have to put out the songs that you want people to hear and hope that they can relate to them and like them."
The band, who played a well-received set at BBC Introducing in Manchester's regular live night in February, are hoping that their debut release will lead to further good exposure.
Gareth said that more than that though, the band were just "excited to see what people's response is" to Fools Wish.
"It's great - we just have to see if we can get some momentum of the back of it and get some more plays on the radio."
Fools Wish is out now on High Voltage