Adapted bikes stolen from Wythenshawe charity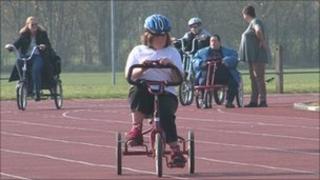 Nine bicycles which have been adapted for cyclists with a disability have been stolen from a charity based in a south Manchester park.
The bikes were stolen from Wythenshawe Wheelers, a volunteer-run club in Wythenshawe Park, on Tuesday morning.
The club, at the Athletics Facility, has more than 70 adapted bikes.
Sue Blaylock, group founder, said it has taken years to build up the club's collection of bikes and the theft was "demoralising and dreadful".
Ms Blaylock said: "We were very downhearted to find that one of our cabins had been totally emptied of bikes.
"Some of the bikes that have been stolen are just no use to anyone unless you are disabled, because they are very specialist bikes with adaptations that mean they just either have to be wrecked to be used by the people that are using them, or scrapped."
She added: "It was just so demoralising because it has taken us six years as a voluntary group with no external funding to build up the stock of bikes, to find bikes that some people desperately need in order to get any exercise disappeared."