Salford Chapel Street traffic problems 'should die down'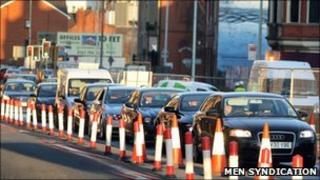 Traffic problems caused by the start of roadworks on one of the main roads into Manchester city centre should soon ease, a council leader has said.
Motorists have been caught up in long queues on the A6 in Salford since it was reduced to one lane in each direction on Monday.
It is part of work to regenerate the Chapel Street area and widen its pavements for pedestrians.
Salford City Council leader John Merry has asked commuters to bear with them.
The authority had issued a warning about "significant disruption" in the area and urged commuters to find alternative routes.
But motorists have been caught in long early morning tailbacks on the A6 and delays have also been reported on the M602 and Regent Road because of people trying to avoid the area.
'Destination' bid
Mr Merry said: "I appreciate this is causing some frustration for commuters at the moment but we are confident the disruption will die down as people find new routes to work and get used to the new layout.
"I would ask that people bear with us during this time.
"This scheme is about developing this area of Salford to benefit both local residents by creating 11,000 new jobs and bringing more than £500m of investment into the region.
"Chapel Street, with all of its historic buildings and new development, will be more than just a commuter route, it will be a destination in its own right."
But some people are calling for a rethink of the work and an opposition Facebook group called "Motorists against A6 improvements" has been set up.
The roadworks are the first stage of the project to regenerate the run-down Chapel Street area, which will include new housing, shops, cafes and other businesses.