Manchester Brownies and Guides get first Dignity badges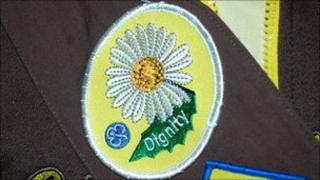 Sixteen Girl Guides and Brownies from Greater Manchester have become the first in the country to be awarded a new Dignity badge.
The badge, which is being piloted in the region, promotes interaction between young and elderly people.
Manchester City Council's Gillian Moncaster originally proposed the badge because she was interested in getting children to meet the elderly.
She said it was "really exciting" to see how the generations interacted.
As with all Girl Guide badges, for the girls to attain the Dignity badge, they have to achieve a number of tasks.
These include exploring the dignity theme by speaking to carers or visiting a care home or community group.
Ms Moncaster said the badge promoted a "win-win" situation, as it allowed interaction on both sides.
She said the creation of the badge was "to get the younger people together with the older people".
Nine-year-old Grace Carty was one of the brownies to have achieved the first badges.
She said she had decided to work towards it because she liked finding out about her grandfather.
"I thought it would be quite interesting to do," she said.
"I had to find out about his childhood, growing up, and his adult life."
Grace's grandfather, Eddie Potts, said it had allowed him to discuss things with Grace they would not normally have been talked about.
"I did [enjoy it], because it brought back many memories," he said.
"I used to get lectured by my grandmother, who told me what life was like in the Victorian age.
"You rely on your grandparents many a time for much older information."
It is hoped the new badge will be rolled out to Brownie and Guide groups across the UK and that its success will lead to intergenerational work with the Scouts Movement and St John's Ambulance.