Fresh appeal over Lancashire CCC Old Trafford upgrade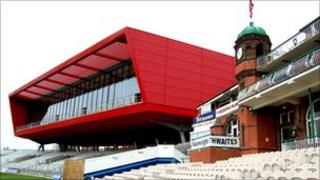 A fresh legal challenge is being made to block Lancashire County Cricket Club's plans to upgrade its Old Trafford ground.
Earlier this month The High Court rejected a judicial review application by developers Derwent Holdings, owners of nearby White City retail park.
The cricket club has postponed its annual meeting on 13 April as a result of the action.
Derwent intend to lodge an appeal with the Court of Appeal.
The club had warned any delay in implementing its £32m redevelopment plans could threaten its status as a venue for Ashes Test matches.
Upgrade plea
Lancashire chief executive Jim Cumbes said: "Despite being defeated emphatically in the High Court, and being refused leave to appeal by the High Court judge only last week, Derwent has announced its intent to try and over-turn the High Court judgment at the Court of Appeal in London.
"We have now been forced to take the unprecedented action of cancelling our proposed AGM, pending the outcome of this latest legal threat."
Derwent Holdings had sought a judicial review of a decision by Trafford Council to grant planning permission for the redevelopment, which would see the ground's capacity increased to 15,000 by the addition of two new grandstands.
The club had argued that the upgrade was vital for Old Trafford to be a Test Match venue for the 2013 Ashes Series against Australia.
It could lose a £5.2m grant from the North West Development Agency if the case lasts longer than 20 April, when the NWDA is due to be wound up.