Accused Cheshire Pc was nominated for bravery award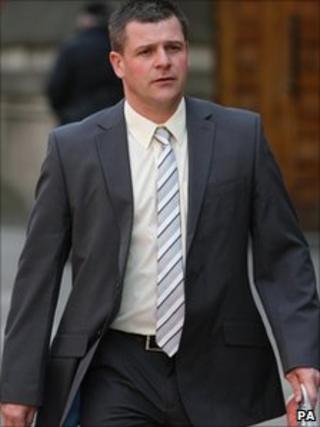 A Cheshire police officer accused of breaking a man's skull was put up for a national bravery award, a court heard.
Pc John Millar, 41, of Lord Street, Salford, denies causing grievous bodily harm to Keiron Reed, who tried to dodge a taxi fare to Widnes in 2009.
Manchester Minshull Street Crown Court heard he was commended for the award after he tackled a woman who was armed with a gun and firing at the public.
Pc Millar had disarmed and arrested the woman in Warrington in 2008.
The officer was put forward by his own force, Cheshire Police, for a Chief Constable's commendation and a National Bravery Award following the gun incident.
Ch Supt Craig Gilford, called as a character witness for Pc Millar, told the jury the defendant had been given other commendations, including after stopping a suicidal man from jumping off the Widnes Bridge.
He said Pc Millar was a high-performing, conscientious and professional officer whose integrity was beyond question.
Body armour
The court heard claims that on the night of the incident in Widnes on 14 March, Pc Millar went over the top, using excessive force, when arresting Mr Reed.
Mr Reed had hailed a cab in Liverpool but refused to pay the fare when he got to Widnes town centre.
Police were called and took Mr Reed to a cash machine but he then ran off, and Pc Millar chased him.
CCTV footage shown to the jury shows Pc Millar running towards Mr Reed, then aged 26, who was standing beside a member of the public, Michael Farrell.
Believing Mr Reed was about to assault Mr Farrell, he ran into him using a "body check" technique.
Pc Millar, who was wearing his police armour and at 13 stone was four stones heavier than Mr Reed, ran into the other man and sent him crashing to the ground.
Mr Reed had been drinking and fell, banging his head on the ground and fracturing his skull.
The court heard from a personal safety expert for Cheshire Police, Kevin Barry, who said the body check technique was taught to officers on courses to teach self defence.
The trial was adjourned until Friday.