Greater Manchester bus passengers face fare rises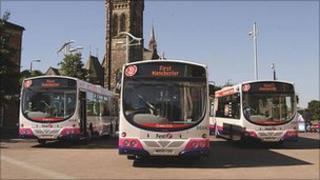 Bus passengers in Greater Manchester are facing a rise in fares from two of its biggest operators.
First Bus - which is raising some fares by up to 20p - and Stagecoach blame changes to fare subsidies for some of the increase.
Concessionary fares will increase on Sunday because the transport authority has reduced the level of subsidies.
Stagecoach also highlighted higher costs for pay, pensions and fuel as factors.
A seven-day travel ticket on Stagecoach services is increasing from £11 to £11.50, while a daily ticket rises from £3.50 to £3.70.
A spokesman said: "We face an increase of 9% on our fuel bill - but our average fare increase is much lower than the increased cost of private motoring.
"There is also a substantial reduction in the payments we receive from GMPTE [previous name of transport authority] for concessionary travel schemes."
In a statement, a First spokesperson said: "We appreciate nobody likes it when prices go up but we have worked hard to keep increases to a minimum by introducing significant savings within our business."
Councillor Roger Jones, who represents Salford on the transport authority, described the companies' reasons as a "smokescreen".
"I think as they see public money withdrawn they've decided they're going to cut services and put fares up," he told the BBC.
"That's the problem with the privatised bus service. I can just see services getting worse and worse in the next couple of years."
A full list of changes to fares for children and people aged over 60 have been published on the Transport for Greater Manchester website.
The changes on regular fares come into effect on Monday.