Cheshire police officer cleared of assault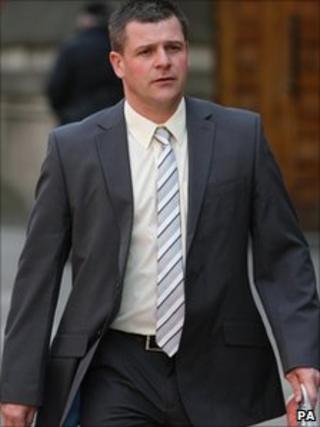 A Cheshire police officer has been cleared of assaulting a man he was arresting over an unpaid taxi fare.
Pc John Millar, 41, of Lord Street, Salford, denied causing grievous bodily harm to Keiron Reed, who tried to dodge the fare in Widnes in 2009.
As the officer intervened, Mr Reed, who was drunk, fell heavily to the floor and fractured his skull.
Pc Millar was acquitted following a trial at Minshull Street Crown Court in Manchester.
The Police Federation has questioned why the Independent Police Complaints Commission (IPCC) recommended he be prosecuted.
The court had heard Pc Millar had an exemplary record with nearly 23 years in the Cheshire force. He had been put up for a national bravery award after tackling a woman taking pot-shots at people with a gun in an incident in 2008.
After the incident in Widnes, he was put under investigation by the IPCC, which decided he should stand trial.
Cheshire Police said Mr Reed was not prosecuted as the taxi driver did not pursue the complaint against him.
'Next steps'
IPCC Commissioner Ms Naseem Malik said: "Mr Reed sustained serious injuries during an incident involving Pc Millar.
"It was right and proper that the matter was subject to independent investigation.
"This incident was thoroughly investigated by the IPCC and on the basis of the evidence found the Crown Prosecution Service decided to charge Pc Millar with Section 20 assault.
"We have noted the jury's decision and the IPCC will liaise with the Crown Prosecution Service and Cheshire Constabulary over the next steps in this matter."
Pc Millar said the last 24 months had been "hell".
He said: "That is all I can say. Now I can just look forward to getting back to doing what I get paid for."
The officer, who is on restricted duties, could still face losing his job, if the IPCC directs Cheshire Police to conduct an internal misconduct hearing.
Ken Davies, from Cheshire Police Federation, which represents rank and file officer, accompanied the officer during the trial.
Mr Davies said: "I can't say if this has been a waste of time and money, but if you take into consideration the cost of a prosecution and defence case, the majority of which comes from the public purse, which is nearly empty, that would answer your question.
"And if it takes such a short time for a jury to make a decision after five days of hearing evidence, that also may provide the answer to whether this has all been worth the cost."
Mr Davies said every day police officers had to make difficult judgments and Pc Millar was simply doing his job protecting the public.