Whitefield shop robbery report man attacked with machete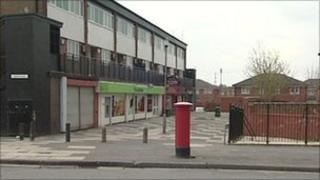 A 63-year-old man who tried to report an armed robbery is in hospital after being struck in the head by one of the machete-wielding raiders.
The gang of three men were leaving the Co-op store in Whitefield, Greater Manchester, when they spotted the man with his mobile phone.
One robber attacked him, lacerating his head and cutting his hand, before stealing the phone.
Greater Manchester Police described the gang as "armed and dangerous".
The man was taken to hospital for treatment to his injuries, which are not life-threatening.
'Armed and dangerous'
Det Insp Jane Little, of Bury CID, said: "These men are armed, dangerous and clearly prepared to use violence.
"To attack a member of the public in this way is unforgivable but incidents like this are extremely rare and I want to reassure local residents and businesses that we are doing all we can to identify those responsible.
"I am keen to hear from anyone who might know anything about those responsible or who has perhaps seen the getaway car being abandoned or at any point since the robbery."
The first robber is described as a white man, aged between 19 and 21, between 5ft 3in and 5ft 6in tall, of medium build, wearing a grey hooded top and armed with a machete.
The second man was white and was wearing a black tracksuit. The third was between 5ft 8in and 5ft 10in tall, of stocky build and wearing a black tracksuit. He spoke with a southern accent.
Cigarettes and cash from the till were stolen during the robbery at the Co-op on Ribble Drive on Friday evening.
The men escaped in a black sports car.