Stockport industrial estate fire sees vehicles destroyed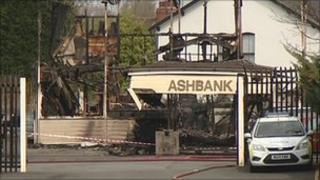 An inquiry is under way into a fire that destroyed a large number of new vehicles at a Stockport industrial estate.
Police were called to reports of the fire at the Offerton industrial estate, on Hempshaw Lane, on Friday night.
A building was destroyed along with a number of vehicles that were being stored in an adjacent yard.
Officers are working with specialists from Greater Manchester Fire and Rescue Service to establish the cause.
Det Sgt Graham Lynn, of Stockport CID, said: "At the moment we do not know how the fire started but what is clear is this was a considerable fire that has caused a lot of damage.
"If anyone was in or around the industrial estate late last night and saw anything suspicious please get in touch."