Naked soldier smashes glass to stop Salford car thieves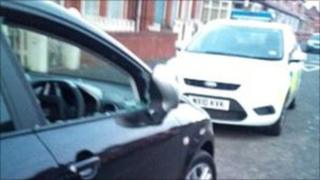 A naked soldier stopped a robber from stealing his car in Salford by smashing the window with his bare hands.
L/Cpl Wayne O'Mahoney, 41, from Charlestown, chased after three masked men who broke into his house early on Saturday morning.
One of the robbers, who was armed with a knife, tried to drive off in his Seat Leon sports car but ran off after L/Cpl O'Mahoney punched through the glass.
Police are appealing for witnesses to the robbery.
It happened shortly before 0600 BST on Saturday when L/Cpl O'Mahoney and his partner, Gemma, were woken by the sound of intruders smashing through the front door of his home on Gerald Road.
L/Cpl O'Mahoney, a serving soldier with 103 Regiment Royal Artillery, based at Belle Vue, Manchester, immediately ran downstairs and struggled with three men wearing balaclavas.
'Birthday suit'
"Two of them ran out of the house but the third one managed to get the car keys," he said.
"As soon as he got in the car he was waving this knife at me and I thought 'there's only one way to stop him.'
"So I punched clean through the driver's window and I just kept hitting him until he got out."
"The only thing is, I was a little bit naked because I sleep in my birthday suit," he added.
"What the neighbours were thinking I don't know because they were all looking out at this naked man shouting at his car at six in the morning."
L/Cpl O'Mahoney, who served in Iraq for two years, is due to be deployed to Afghanistan but suffered a fractured shoulder during training in Cyprus.
The knife attacker is described as white, 5ft 9in tall and of slim build. He was wearing a balaclava, black tracksuit and spoke with a local accent.
He ran off in the direction of Norfolk Street.
Police said the offender might have an injury to his right shoulder as a result of the glass being smashed and have appealed for witnesses.
Pc Adele Ainscough said: "We believe there was a taxi travelling along Gerald Road moments after the incident and I am appealing for the driver to come forward.
"We also believe two people were walking along Cromwell Road at this time and would like to talk to them so we can eliminate them from our inquiries."