'Funding cut' to shut Manchester's Greenroom in May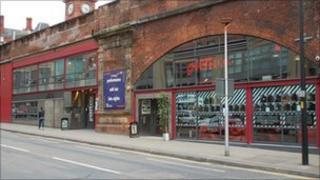 Manchester's Greenroom theatre has said it will close to the public at the end of May because of a lack of funding.
A theatre spokeswoman said it "would like to have continued but are unable to do this without confirmed funding or alternative income going forward".
The venue, established in 1983, supports new dance and drama works.
The Arts Council said, as it had not got funding for 2012 onwards, Greenroom had had "to make difficult choices" about its future.
In a statement, Greenroom said it "has been at the forefront of discovering and pioneering Manchester, national and international 'firsts'".
"We have been consistently committed to developing and presenting new and experimental performance, and enabling artists at the start of their careers to be innovative, take risks and experiment with new ideas," it said.
"Our aim is to ensure that this important work continues through other organisations, artists, companies, producers and promoters."
'Measured decisions'
The Arts Council said that "since announcing Greenroom will not become a National Portfolio organisation, we have been in discussion about how we might best support the organisation in the coming months".
A spokeswoman added the council "understand that Greenroom have to make difficult choices about the future of the company" and had urged it to take specialist advice.
The Arts Council said the current funding agreement with Greenroom, which includes a grant of £295,308 for 2011/12, will be put towards a 12-month programme of work from now until March 2012.
Greenroom said it was in discussions with the Arts Council as to what form its 2011/12 programme of events will now take.