Greater Manchester hospital makes YMCA video about MRSA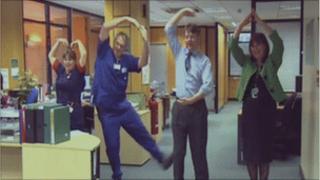 Hospital staff in Greater Manchester have recorded a disco music video to highlight ways of preventing the spread of the superbug, MRSA.
The University Hospital of South Manchester (UHSM) recorded its own version of the Village People's YMCA.
Staff at the Wythenshawe hospital sing and dance to the 1970s hit with new lyrics to spread the hygiene message.
The video is part of a two-year Infection Prevention campaign to urge people to be vigilant in hospitals.
Despite admitting its approach was unusual, UHSM said that it was effective.
The chorus has been changed to: "We've got to wipe out the M-R-S-A, we've got to wipe out the M-R-S-A, we have everything to put this bug in its place, so together let's win the race."
Director of communications Susan Osborne said: "We know that some people might think that a video is a bit frivolous, but there is a serious message behind it - beating infections is our responsibility and it saves lives."
YouTube hits
The Trust's figures showed that since launching the campaign in 2009, MRSA within the South Manchester hospital has decreased by 70%.
Rates of C.difficile infections - bacterial infections that cause diarrhoea and vomiting - were also reduced by 50%.
Last year UHSM released a similar music video set to Michael Jackson's Beat It, which has been watched by more than 7,000 people on YouTube.
Both videos feature a variety of hospital workers ranging from surgeons and doctors to clerical staff and porters.
Ms Osborne said: "Using our own staff brings the message closer to home.
"It also demonstrates ownership and commitment by people at all levels of the organisation to infection prevention."