Farnworth Town Football Club's changing rooms stolen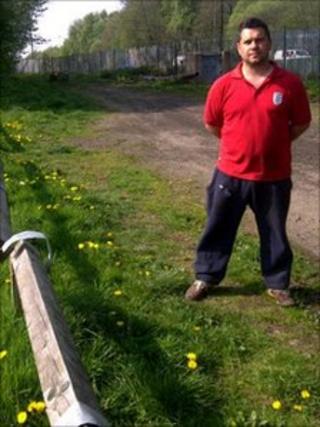 An amateur football team from Bolton turned up for a match to discover their changing rooms had been stolen.
Farnworth Town's 40ft (12m) steel unit, containing showers, toilets and home and away changing rooms, was taken late on Friday evening, police said.
Players were greeted on Sunday by the sight of live wires and gushing water pipes where the unit had stood. They had to change in their cars.
The cables at Fern Street Park in Farnworth have been made safe.
Farnworth Town, who play in Division Two of the Wigan and District Amateur Football League, went on to beat Ormskirk 4-3.
Team manager Jason Tyldesley said: "It was just mad turning up and there being nothing there. The lads had to get changed in the back of one of their vans and in their cars.
"They couldn't have just stripped off in any case because we play right next to a kiddies' playground.
"It was a real scramble to get the match going because we had to borrow nets and corner flags from another team as they disappeared with the changing rooms.
"I can't believe how the thieves managed to get away with it because they must have needed a lorry."