Manchester housing association: Evictions 'take too long'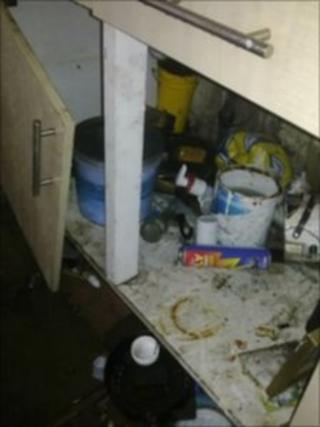 A housing association which spent two months trying to evict a drug addict in Greater Manchester is calling for more powers to get rid of problem tenants.
Irwell Valley began proceedings against the man, who was using the house in Bury as a drugs den, in February.
It took until 15 April to obtain a magistrates' eviction order - by which time the house had been vandalised and stripped of anything of value.
The government said it was examining ways of speeding up court procedures.
Irwell Valley applied for a repossession order on 28 February after receiving a number of complaints about anti-social behaviour at the house on Rake Street.
Greater Manchester Fire Service took calls about fires at the back of the property and police were told about needles and drug paraphernalia at the house.
After the tenant failed to leave within the 28-day notice period, the housing association applied for an emergency eviction order.
When it finally gained entry to the property, officials found that floorboards, copper piping, radiators and the boiler had all been ripped out.
Neighbourhood manager Michael Sinnott said: "The process is so slow that we knew once we started that we were going to get additional problems, in terms of the deterioration of the person, deterioration of the property.
"If we've got the right to start a tenancy on any given day I'd like to see us being able to end a tenancy on any given day.
"I would like the whole process just to be speeded up when you've got clear anti-social behaviour, you've got a clear blight on the community.
"It's so frustrating."
Government plans
In January, Housing Minister Grant Shapps announced plans that would see tenants with a track record of anti-social behaviour being evicted more quickly.
Under the proposals, being found guilty of housing related anti-social behaviour in one court will provide automatic grounds for eviction in another - removing the burden of proof from housing associations.
A spokesperson for the Department for Communities and Local government said: "We are making it easier for social landlords to tackle anti-social behaviour and give victims, witnesses and neighbours confidence that action will be taken quickly to deal with those who are making their lives a misery.
"Ministers have announced reforms that will see cases dealt with quickly without the need for expensive and time consuming trials.
"We are also continuing to work with the Home Office and the Ministry of Justice to find further ways to speed up court procedure."
Housing charity Shelter has expressed scepticism about the new fast-track eviction plan.
Kay Boycott, its director of campaigns, said that removing courts' discretionary powers was a "blunt tool to deal with a complicated problem".