Salford campaigners inspired by 1931 demonstration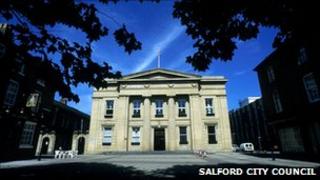 Campaigners in Salford say they hope a 1931 political protest will inspire people to rise against council cuts.
Salford Against The Cuts (SATC) said it planned to place a plaque on the old town hall to commemorate the Battle of Bexley Square that took place there.
Eighty years ago, people gathered for a protest that turned violent, over the introduction of an enforced means test.
Steve North, of SATC, said that as now, the original demonstration was against "spending cuts from the government".
The Battle of Bexley Square took place on 1 October 1931 and saw up to 10,000 workers turn out to demonstrate against the introduction of the means test.
The test had been introduced by Ramsay MacDonald's coalition government in order to stabilise the British economy, following the 1929 Wall Street crash.
The protest by the Salford branch of the National Unemployed Workers' Movement then was meant to see them hold a march to the town hall in Bexley Square and hand in a petition.
However, when they arrived, they found their way blocked by police and after a stand-off a unit of mounted officers charged into the protesters, causing many serious injuries.
Among those in the crowd were Jimmy Miller, who later changed his name to Ewan MacColl and became a prominent figure in both folk music and politics, and Walter Greenwood, who accounted the day's events in his novel, Love On The Dole.
Mr North said that the strength and spirit of the protesters was "inspiring".
SATC said it hoped to raise the money to pay for the memorial plaque, which has been granted permission by Salford City Council, through public subscription.
It said it expected the plaque to cost about £500.