Moss Side brawl police want to trace 'everyone'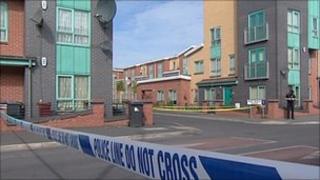 Detectives want to find "every single person" involved in a mass brawl which erupted in south Manchester, a senior police chief has said.
Fighting broke out among two groups of Somali youths in Gerry Wheale Square, Moss Side, on 26 April.
On Wednesday, a man was arrested on suspicion of violent disorder and firearms offences after contacting police about the disturbance.
Three men arrested last week have been released on bail.
The latest man questioned - a 24-year-old from Wythenshawe - was arrested after walking into a police station. He remains in custody.
Extra police patrols are continuing in the area a week on from the incident to reassure residents.
Examinations of a silver handgun found after the disturbance are also continuing.
Ch Supt Russ Jackson, commander for the Metropolitan Division, said: "My officers worked tirelessly during the last six days to speak to people and work with the community to ensure that no one is unnecessarily fearful following this incident.
"At the same time they are trying to trace every single person involved in the incident because we will not accept anyone fighting or causing a disturbance on our streets.
"We were open and said that we believed the two groups of people involved were Somali youths but that should not vilify the entire Somali community. This was a very small minority of an otherwise strong, supportive and law-abiding group of people."
Mr Jackson said the community had been very supportive during the investigation and thanked them for their assistance.
Greater Manchester Police estimated that about 50 people were involved in the fighting.