Stockport man jailed for killing Paul Begley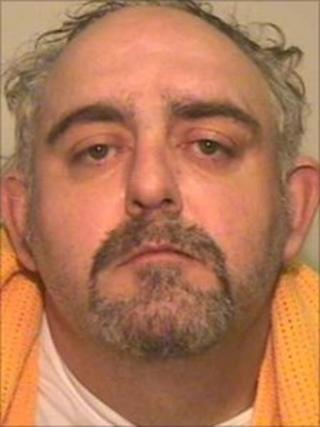 A man who stabbed another man to death and dumped his body on a canal bridge in Hyde has been jailed for two years.
Mario Simpson, 39, killed Paul Begley following an argument at his home in Somerford Road, Reddish, Stockport, on 11 December last year.
He then put the body in the boot of Mr Begley's car and visited family and two former girlfriends, before finally leaving the body off Woodend Lane.
Simpson admitted manslaughter at Manchester Crown Court on Thursday.
Greater Manchester Police said after the killing, Simpson realised he would be going to prison and wanted to say goodbye to his family.
He took Mr Begley's MG car, which was parked outside his house, and visited his family home in Sale and a girlfriend in Lymm.
He then drove to Hyde to visit another girlfriend, and while there admitted what he had done and that the body was in the car.
Police said he then decided to dispose of the body and drove to a nearby dirt track and canal.
The canal was frozen, so he drove to the bridge in Hyde and dragged the body from the car.
Passers-by became suspicious and called police and Simpson drove off.
He was arrested soon afterwards on suspicion of murder.
A post mortem examination showed Mr Begley died from multiple stab wounds.
Senior Investigating Officer Vinny Chadwick said: "Paul and Simpson had been on-off friends for some time.
"On that night, the tension between them turned violent and Simpson claimed it was a 'him or me' situation and killed Paul before he himself was seriously injured.
"Unfortunately, it is another tragic example of what can happen when a drink-fuelled argument turns violent, and in this case sadly resulted in Paul losing his life."
"Although Simpson has been jailed there are no winners here and Paul's family are still coming to terms with losing him, and no prison sentence will bring him back."