Digital artist Salford symposium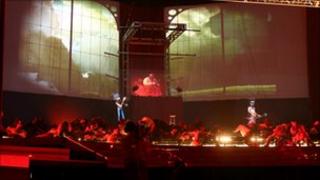 Digital artists, academics and broadcast leaders from across the world have gathered in Salford to discuss how computers can be used to stimulate creativity.
The two-day symposium at the Lowry Centre, called "As yet impossible: In human performance" is being attended by 60 BBC, Sky and BT editors, and academics from the US, the Middle East and Europe.
Hosted by the University of Salford it will feature work by small UK creative firms like Musion, the company behind the Gorillaz' 3D holographic live shows.
University of Salford reader, Mary Oliver, who is leading the event said: "Much of the technology available today is based around what can be done, not what we need.
"The fact that some children spend 14 to 16 hours a day playing computer games highlights the need for companies to start developing technology that can help people fulfil their lives, rather than become an obstacle to achievement.
"We feel the upcoming move to MediaCityUK makes the university the natural choice for a meeting between people at the cutting edge of science and creativity."