Crowd for Bury FC civic reception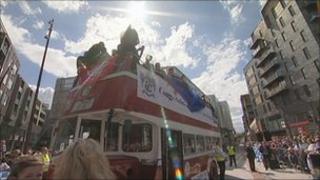 More than 2,000 supporters have turned out in Bury, Greater Manchester, to celebrate the club's promotion to League One.
Players from Bury FC arrived at The Rock shopping centre for a civic reception in their honour aboard a vintage open-top bus.
The club's promotion is its first in 14 years and comes after they secured runners-up position in League Two.
The players were presented with their medals and the runners-up shield.
They secured promotion on Saturday with a 3-3 draw at Stevenage
Mayor of Bury John Byrne said: "I think it's a celebration of a marvellous achievement by a club that has struggled over the years, particularly financially - and yet has made it good on very limited resources.
"Even in this league there are teams with greater resources but I think it's a tribute to the way the team has pulled together and the way they are proud to play for Bury."