Fuel protesters end demo at Ellesmere Port oil depot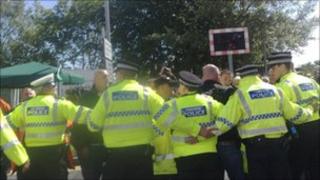 Fuel protesters who attempted to blockade the Stanlow oil depot at Ellesmere Port in Cheshire have called off their demonstration.
Up to 150 lorry drivers, farmers and bikers converged on the refinery on Sunday after holding go-slow protests on the M56 and M53 motorways.
Forty campaigners remained at the site in the evening, calling on the government to reduce the price of fuel.
However, Cheshire Police said the protest had now ended.
The Stanlow oil depot - which is in the process of being sold by Shell to Essar Oil (UK) Limited - is the UK's second largest oil refinery, producing around one sixth of the UK's petrol.
The Stanlow Fuel Protest and Direct Action Group, which recruited supporters through Facebook, had intended to block the plant's exits until its demands were met.
'Different tactics'
Protest organiser Ian Charlesworth denied that by ending the protest, they were backing down on their call for a cut of 24 pence per litre in the price of diesel and petrol.
"We felt it was far better for us to make the statement that we did, and then go away and re-group and come back with our different tactics," he said.
"Regardless of what Shell are putting out this morning, tankers were held up last night and yesterday and we did shut down two refineries, one at Eastham docks and one at the Shell site."
This was denied by Shell UK, which stated that there had been "no disruption to our operations" and that tankers continued to arrive and leave the refinery as normal.
Protesters who attempted to block the plant entrance on foot were held back by a police cordon.
A force spokesman said: "The role of the police in this situation is to uphold the law. The law allows for peaceful protest, but also requires that business can continue unhampered as usual.
"During the course of the evening, the number of foot protesters dwindled, leaving around 10 to 20 in number, until around 0230 BST on Monday 9 May, when these left."
No arrests were made.