IPCC appeal to witness of fatal crash in Hyde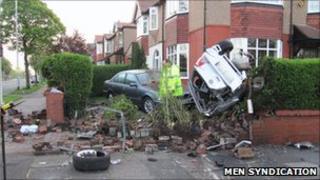 The police watchdog is trying to trace a potentially key witness to a fatal car crash, which happened shortly after the vehicle was pursued by police.
Robert Stansfield, 24, died when his Volkswagen Golf overturned on Windsor Road in Hyde, Greater Manchester, at 0200 BST on 25 April.
A police officer had started pursuing the car in Stockport but he lost sight of it before it crashed.
The witness was a passing motorist who then alerted the officer to the crash.
The driver, believed to have been in a van, stopped him in Hyde Road, the Independent Police Complaints Commission (IPCC) said.
IPCC commissioner Naseem Malik said: "It is important that we build as complete a picture as possible of the incident to help answer the understandable questions Mr Stansfield's family have about how he died.
"Our investigation is progressing and we have taken statements from a number of witnesses.
"However, we believe the motorist who reportedly spoke to the officer could hold vital information about the incident and I am making a direct appeal to him to contact us to assist our investigation."