Biker to visit all the Manchesters in USA and Canada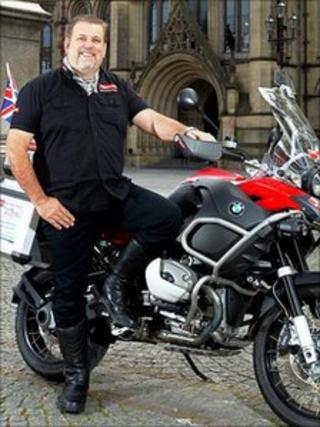 A Greater Manchester biker is gearing up for a 10,000 mile road trip visiting all the towns in North America called Manchester.
Pete Johnson, 53, from Sale will criss-cross the United States by motorbike, starting in Massachusetts and finishing in California.
On the way, he will cross mountain ranges and deserts, a journey he's described as a "dream come true".
The self-employed plasterer is due to return to the UK on 14 June.
Mr Johnson - a keen motorcyclist and proud Mancunian - said he got the idea browsing the web.
"About three years ago, I discovered through the internet that there were 36 towns called Manchester in the world and 32 of them were in the States.
"Being a motorcyclist and in my mid-life crisis and all that, I decided it would be a good idea [to visit them]."
The bike he will be using - a Honda Goldwing 1800 cruising bike - has been shipped out to Boston where his epic journey will begin.
"The first Manchester is actually Manchester-by-the-sea which is 30 miles north-east from Boston," he said.
"After that, there's one in Canada, two in Pennsylvania - the longest stretch I've got to do is 841 miles," added Mr Johnson.
Twister town
One of the most unusual places he'll be visiting will be the ghost town of Manchester, South Dakota.
"In 2003, it was actually blown away in a tornado so there's nothing left apart from the concrete bases where the houses used to be," he explained.
The journey ends in Manchester, California (population 460), a small coastal town in Mendocino County where residents are preparing a proper Mancunian welcome.
"There seems to be a little bit of a gathering being planned," said the 53-year-old.
"Some bikers from San Francisco have said they'll ride the last 100 miles with me, so that should be fun."
Adding: "I was hoping to get Arnold Schwarzenegger to join me but I can't get his phone number!"
Mr Johnson will be blogging and tweeting along the way and has already been offered over a dozen places to stay by American Mancunians who have read his blog, unitedstatesofamanchester.
"I'll also be doing some radio or TV to get some press coverage while I'm out there so hopefully it will grow and grow," he said.
His Stateside ambition was kick-started earlier this year when he won a competition called, Win your bike a dream.
"I almost gave up on it earlier this year because of the cost basically, but they've agreed to put up the funds to help my dream come true," he said.
Mr Johnson has been married for 31 years to wife Sharon and they have one grown-up daughter, Alexa, who is 26.
He leaves Manchester Airport on Friday 13 May and, all being well, returns home in time to take part in the Manchester Day parade on 19 June.