Pakistan murder victim Tariq Hafeez's body flown home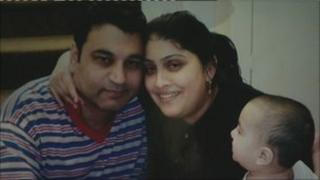 The body of a father-of-six from Bury who was shot dead in Pakistan has been flown back to the UK.
Tariq Hafeez, 44, was murdered as he left Lahore Airport in a taxi on 6 May while he was on a business trip for his textiles firm.
Mr Hafeez's wife, Samreen, flew out to Lahore to meet with Pakistani authorities and bring his body back.
Rochdale Coroner's Court, which covers Bury, said it was aware of the case and inquiries were still ongoing.