Domesday: Remembering the flats on Manchester Arndale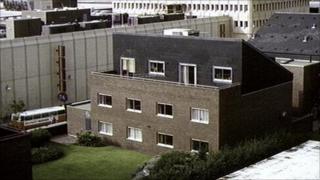 "It was a lovely little enclave in the city, cut off from the hustle and bustle below it."
Eric Larmett's recollection of several blocks of flats which sat on top of the Arndale shopping centre in Manchester may seem strange, but it is how he remembers them.
Their unusual location was recorded in the original 1986 Domesday project - an ambitious BBC plan to record a snapshot of everyday life, now available online through Domesday Reloaded.
As a surveyor for Manchester City Council, Mr Larmett was often at the centre and visited the flats on several occasions.
He said they housed "a proper little community" which, but for the 1996 IRA bomb, might still be enjoying life above one of the UK's busiest shopping centres.
'Gated community'
When the Arndale opened in 1975, it did so with six three-storey blocks of flats on the roof.
Far from being a noisy location, Mr Larmett said they were shielded from the activity below.
"They were private residences which only the tenants could reach," he said.
"As a result, it was like having a gated community right in the middle of the city."
The Arndale flats - originally described as "expensive 'penthouse' units" - actually housed tenants of the North Country Housing Association.
They had communal gardens with trees and hedges and Mr Larmett saw them as "an oasis in the city".
The shops below may not have agreed, plagued as they were with mysterious leaks from the plants on the flat roof above them.
One left inside
Life for the tenants changed forever on Saturday 15 June 1996, when an IRA bomb was detonated in Corporation Street, a short distance away.
A telephoned warning allowed emergency services to evacuate the flats before it went off.
After, as Mr Larmett and colleagues were assessing the damage, they heard there may be someone still in the flats.
"Effectively, the Arndale had been cordoned off, so we met police at the entrance and picked our way up to the flats.
"Sure enough, there was an older chap still living in his flat.
"He said that he had had a spot of flu and had gone to bed, ill.
"He'd been a rear gunner in a Lancaster in the war, which was much more dangerous than the situation he was in now and said he was buggered if he was going to let a small bomb affect him."
Demolition and rebuilding
Miraculaously, the flats survived mostly unscathed, but life above the Arndale was over.
Despite city centre living becoming more desirable, the blocks were demolished to make way for a new wing of the centre.
Mr Larmett said while he was fond of them, he wasn't sorry to see them go.
"We were rebuilding our city and the whole of the area now looks a lot better for it."