Bolton man recalls life with the town's mayor and mayoress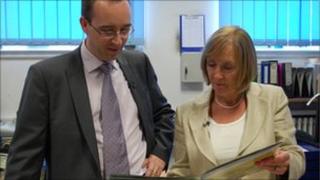 "I remember being very proud, very proud indeed."
Twenty five years ago, Simon Speak was just 10 when he wrote about his grandmother and mother being mayor and mayoress of Bolton.
In one of a million entries to the BBC's Domesday project, he described "trips in the mayoral car" and opening the town's new fire station.
The ambitious plan, to record a snapshot of everyday life in the UK, has now been made available online through Domesday Reloaded.
'Everyday life' for the young Simon Speak was not that of your average ten-year-old.
Not only was his mother, Ruth, lady mayoress of Bolton but his grandmother, Barbara Hurst, was the town's mayor.
"I was fortunate enough to be taken for a ride in the mayoral car which was a big treat for me," he recalled.
"And I remember going to see some fire engines when granny opened a new fire station."
Back in 1985, Simon admitted in his Domesday entry being accused of "showing off" at school if he ever mentioned the words mayor or mayoress.
"Eventually I got used to it," he wrote, saying that, occasionally, he was even given time off school to attend civic events in the town.
"It's a bit difficult to cope with, something like that, when you're quite young," he added.
"But I remember being quite proud."
'Beans on toast'
And yet, in many ways, life in the Speak household was quite ordinary.
An article in the Bolton Evening News at the time - 'Apology in advance by new lady mayor' - quoted his mother's concerns over the demands of her civic duties.
"I hope it will not mean too many meals of beans on toast," she told the newspaper.
Returning to Bolton town hall to see her mother's name on the mayoral roll of honour, Ruth recalled her time as lady mayoress fondly.
"It was fantastic," she said. "We got to see many interesting places and met so many lovely people.
"I learned so much about the town that I lived in but, until then, didn't know what was going on."
Adding finally: "It was quite a revelation."
If you want to get involved in Domesday Reloaded, please email: domesday@bbc.co.uk