'Family killed' Tariq Hafeez in Pakistan, say police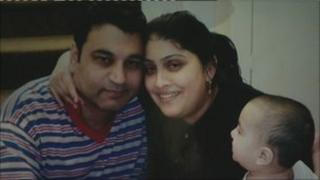 Police in Pakistan have said that a Bury businessman, shot dead as he left Lahore airport, was killed by members of his own family after a land dispute.
Two relatives of Tariq Hafeez are being sought in the UK and Pakistan police are searching for a third, Tariq Mahmood, who they claim fired the gun.
Mr Hafeez, 44, a father of six, was in Lahore after stopping off from a business trip to China on 6 May.
Police said Mr Hafeez was taking legal action against his relatives.
Supt Amin Bokhari, who is leading the investigation in Lahore, told the BBC that Mr Hafeez believed members of his family had fraudulently transferred land belonging to him into their ownership.
'Targeted before'
Supt Bokhari said: "It appears the dispute escalated and there was a great deal of emnity towards Mr Hafeez - we think this is what led to him being killed."
"We have a team searching for Tariq Mahmood and we hope to arrest him within the next couple of days."
Mr Hafeez, from Prestwich, ran a textile importing business in Bury and had told his wife Samreen that he feared he would be killed.
He was shot in a taxi that had stopped at traffic lights after he fled Lahore Airport, where he came face-to-face with his killers, police in Pakistan said.
Mrs Hafeez, who flew out to Pakistan to bring her husband's body back to Bury, said she believed that he had been targeted at least once before.
The Foreign and Commonwealth Office (FCO) said it was making inquiries into the death.