Schoolgirl raped on walk home in Gorton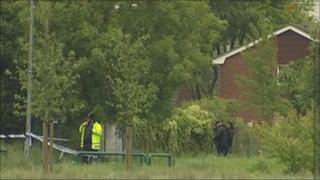 A 13-year-old girl was dragged into bushes and raped as she was walking home from school in Manchester.
The girl was walking through a field between Longsight Road and Butterwick Close in Gorton when she was attacked between 1530 and 1600 BST on Monday.
A man, who was black and in his early 20s, approached her and pulled her into some bushes, before raping her.
Police said the man then ran off and the teenager went home and told her family what had happened.
The man is described as about 5ft 6in (1.6m), with short hair and was wearing a grey tracksuit.
'Isolated incident'
Supt Stuart Barton, from Greater Manchester Police, said: "We are in the early stages of this investigation and we are urging anyone who may have seen the victim being grabbed, or the offender running away, to contact us.
"The victim has been left traumatised by what happened but trained officers have been speaking to her and she has fully supported our investigation.
"We understand that this incident will cause some concern in the community but we are treating this as an isolated incident."
Police have increased their presence in the area.