'Blade Runner' Oscar Pistorius sits for torso sculpture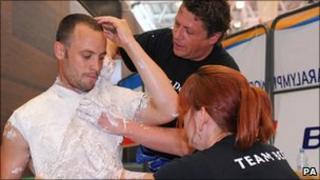 Paralympian Oscar Pistorius is being immortalised in bronze to feature in an exhibition of the world's top athletes.
A plaster cast of the South African, who is known as the Blade Runner, has been taken in Manchester.
Bath-based artist Ben Dearnley is to create a sculpture of the 24-year-old athlete's torso for a display at Salisbury Cathedral during London 2012.
He described Pistorius, competing at the Paralympic World Cup in Manchester, as "this amazing human being".
Pistorius, a double amputee, is the 100m, 200m and 400m Beijing Paralympic champion, as well the world record holder in those events.
Pistorius will be defending his records at the World Cup, which takes place until 28 May, and will also be going for gold at London 2012.
A sculpture of his torso will help pick up on "something of the essence of what it is that makes him the best in the world", according to Mr Dearnley.
The artist is creating a series of sculptures of top athletes that will form the Avenue of Champions exhibition, which will be opened to the public during the 2012 Games.
Mr Dearnley chose to sculpt the torso to show how different athletes have been shaped by their disciplines.
He said: "It is here the heart beats and here we also have the reference to the ancient classical fragments of the first Olympic statues - broken marble stories, carved over 2,000 years ago."
On Monday, Pistorius visited the Olympic Stadium in east London and revealed his ambition was to become "the fastest man on the planet".
But before he gets to the 2012 Games, Pistorius will compete at the seventh annual Paralympic World Cup in Manchester.
Billed as the largest annual international multi-sport competition in elite disability sport, athletes from around the world are competing in events including athletics, wheelchair basketball and swimming.