Further 82 arrests in Bolton kerb crawling crackdown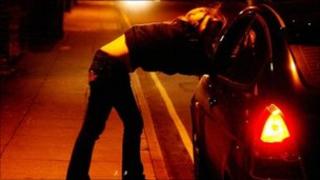 Police have arrested 82 people in Bolton over street prostitution in the past year, as part of a crackdown on kerb-crawling in the town.
In October 2007, Bolton police started a campaign to stop prostitution. A total of 574 people have been arrested.
Officers believe the number of women working as prostitutes has fallen from 20 per night to one or two.
But Insp Phil Spurgeon has vowed to continue the campaign until the issue is eradicated in the town.
"In the 21st Century, how can you have a town where you turn a blind eye to the exploitation of women and young children," he said.
Officers go on regular patrols of known hot spots in the town.
A total of 213 men have been arrested for kerb crawling and 191 have attended "kerb crawler awareness sessions" where they are forced to read residents' letters about the effect of prostitution.
Economic difficulties
They are warned if they re-offend they risk being named and shamed in the local press. Only five of the 191 have been caught again.
Mr Spurgeon said there were about 140 sex workers in the town when the campaign started, which has now reduced to a maximum of 20, with only one or two working in a given night.
Police said most women - 71% - had left prostitution and there was "very little evidence" they had move to other areas of Greater Manchester or beyond.
Officers also work with outreach programmes to support the women.
However, Mr Spurgeon admitted his team's progress had been hampered by the economic difficulties in the town, which has slowed the expected redevelopment of the red light area, which centres on the Breightmet Street and Shiffnall Street area.