Boys arrested after birds beheaded in Wythenshawe Park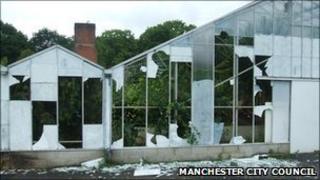 Six teenagers have been arrested after 27 birds were beheaded, a frog speared, fish poisoned and hundreds of windows smashed at a park in south Manchester.
The aviary in Wythenshawe Park was broken into between 1630 BST on 28 May and 1000 BST on 29 May.
The teenagers, aged between 13 and 18, were arrested on suspicion of burglary, theft and criminal damage.
Five have been bailed until August 2011 pending further inquiries. An 18-year-old man remains in police custody.
It is estimated more than £10,000 of damage was caused in the incident.