Bolton widower waiting for justice after arson attack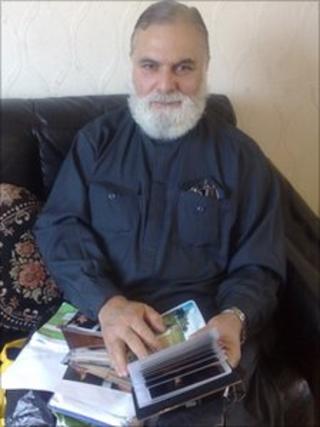 Mumtaz Chisti, who lost his wife and granddaughter in an arson attack on his Bolton home, has said he is still waiting for justice three years on.
Hameeda Chisti, 71, and four-year-old Alana Mian died after a bin was set alight outside the door of their Great Lever house.
A 22-year-old man and a 12-year-old boy were arrested in connection with the fire but released without charge.
No-one has been convicted over the deaths.
Mr Chisti's daughter, Saima, was badly injured in the attack and a fireman called to the scene, Steve Morris, also suffered severe burns.
Saima Mian had been visiting the UK on holiday from her home in Australia when the attack took place on 23 June 2008.
Mr Chisti said she "lost her mother, her daughter, she lost everything".
"She now says she won't come back to the UK until the killers are caught and we get justice."
'Not worth living'
Mr Chisti said the attack has had a devastating effect on his whole family.
"I have relatives in Leicester, Birmingham and London; they don't come to see me anymore, because it was my wife who held the family together.
"And now she's gone - even my sons and daughters don't come to see me," he said.
Mr Chisti has not returned to the family home since the arson attack.
He had a new home built but said he was unable to live by himself and so he is staying with one of his sons.
He said that his life "is not worth living", though he said he does take solace from his faith.
"Even if the killers aren't caught, they will one day have to face God and God will punish them, I'm sure of this."
'Devastated'
The events of that night had a huge impact on the communities which live in Great Lever.
Local residents say that they are still upset by what happened.
Family friend Najma Ayub said she felt "really devastated for the family and that nothing has been done about it".
"Whoever has done it needs to get justice."
Greater Manchester Police have started a murder inquiry but have never charged anyone over the deaths.
However, three people - including Simon Buckley, 24, of Bolton, who was jailed for three years and four months - have been sentenced for witness intimidation in connection with the case.
Det Ch Insp Jonathan Chadwick, who heads the major incident team at Leigh, said inquiries were continuing.
"A number of people have given us statements but I believe some people know more than they are telling us and they could assist us.
"I would ask everyone who knows anything about it, to think about what this has done to Mumtaz and his family and to fireman Steve Morris."