Sport England grant allows Bury club to rebuild gym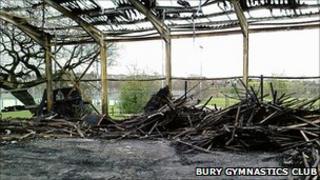 Officials from a Greater Manchester sports club have said a grant from Sport England will allow them to build a new £1.95m base.
Bury Gymnastics Club was left homeless after an arson attack in 2007 on its original home in the town.
Club chairman Mike Bird said the new building was the result of "a great deal of hard work".
He said it would be "a state-of-the-art gymnasium for the people of the North West".
Mr Bird said that while the fire destroyed the club's home at Goshen Sports Centre, it did not stop the coaches and members from enjoying gymnastics.
"It reduced the building to ruins - there wasn't a stick left inside that was usable and we lost the building itself," he said.
"We were homeless for about 10 months, but thanks to local clubs, the core of the club managed to carry on training."
The club set up in a converted industrial unit, but Mr Bird said it was always hopeful of having a new purpose-built gymnasium to replace the one it had originally used.
Sport England has made a grant of £995,000. That along with insurance money and cash put aside for development by Bury Council, will allow the building of the centre, he said.
Bury Council Leader, Mike Connolly, said the funding "is great news for our borough as well as for today's and future gymnasts".
The new centre, which will house football changing rooms, a community room, a play area and a multi-use "ball zone" alongside the gymnasium, is due to open in summer 2012.