St Ignatius Ordsall restoration called for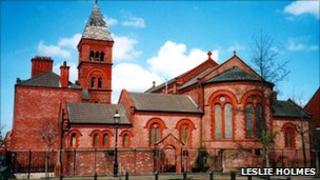 A campaign has been started to restore a Victorian Campaign calls for church revampchurch in Salford which has been empty for seven years.
The Friends of St Ignatius church in Ordsall want its owners, the Diocese of Manchester, to either restore it or allow the local community to use it.
Amber Sanchez, one of the campaigners, said the building could be a "centre of green energy".
The Diocese of Manchester said it is bound by charity law to get the maximum amount of income from the building.
The church, which opened in 1902, was closed by the Anglican Diocese of Manchester in 2004.
'Beautiful but neglected'
Among the people who sang in its choir was Graham Nash of 60s band The Hollies.
Campaigners fear the church, which is close to Salford Lads Club, is being left to rot.
Ms Sanchez, who lives near the church, said: "It is so beautiful and so neglected.
"We feel there must be some scope to be a centre for green energy, so people can learn about solar power, wind power, that sort of thing."
A Diocese of Manchester spokesman said the diocese considers all bids for redundant churches.
He added that it welcomes any proposals put forward.