Siemens creates 340 renewable energy jobs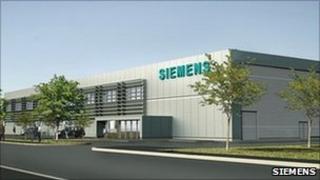 About 340 renewable energy jobs are to be created by engineering and technology firm Siemens.
The majority of the new posts will be based at its new renewable energy engineering centre being built on Princess Parkway in south Manchester.
The work will be focused on the design and building of systems to transfer energy from offshore windfarms to national power grids.
It will be the first facility of its kind outside Germany, the company said.
Siemens said the development was in reaction to the "buoyant market" for High Voltage Direct Current (HVDC) systems.
This is because of the government's commitment to carbon reduction targets and consequential need to invest in offshore power, it said.
Energy secretary Chris Huhne has committed the UK to halving carbon emissions by 2025, from 1990 levels.
John Willcock, of Siemens Transmission and Distribution, said: "The UK's Round 3 offshore wind farms will be sited much further out to sea than previous developments and so will need HVDC technology to overcome the power losses that occur when bringing electricity ashore over longer distances.
"Strengthening our UK expertise in HVDC is therefore central to Siemens' strategy and will help us maintain our leading market position in the UK."
Siemens said there was also a large demand for more inter-country connections and links below the sea to move power around the UK coast.
Both graduates and experienced professionals are being sought by the company from around the UK and Europe.