Lancashire CCC continues revamp despite legal row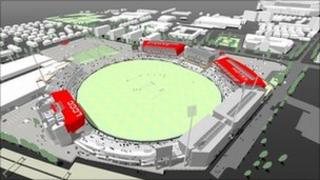 New floodlights are being installed at Lancashire County Cricket Club despite a long-running legal wrangle over its ground revamp scheme.
Developer Derwent Holdings, which opposes the project, will seek a judicial review on 4 July of the planning permission the club received.
Lancashire CCC has urged Derwent's owner, the Manx-based millionaire Albert Gubay, to drop the case.
Neither Mr Gubay or Derwent Holdings has yet to comment.
The High Court rejected an earlier judicial review application by Derwent which has now taken the case to the Court of Appeal.
'Future prospects'
Lancashire Secretary Jim Cumbes said the four 53m-high floodlight pylons would be installed in time for England's 20-20 match with India in August.
The club said it was keeping the £32m development on track so it will not miss the deadline in time for the 2013 Ashes series with Australia.
"The future prospects for the club will rest on the 4 July decision, make no mistake," said Mr Cumbes.
He added: "We are confident of winning and bringing to an end a protracted legal process which has been draining the club financially."
Lancashire's plans also involve a partnership with Tesco, which is building a store on land close to the Old Trafford ground.
Derwent Holdings argues that Trafford Council applied double standards in refusing its plans to build a Sainsbury's on the White City estate which is close to Old Trafford while approving the Lancashire plan.