Nature plan for ex-steel works in Wigan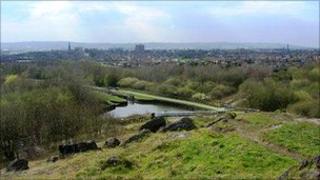 Plans have been revealed to create a nature reserve on the site of a former steel works in Greater Manchester.
The hill in Kirkless, near Wigan, is one of the highest points in the region and home to plants normally found on sea cliffs.
It was created in the 1930s from a huge slag heap resulting from one of the largest iron and steelworks in Europe.
Lancashire Wildlife Trust said protecting the area would also benefit the health and well being of residents.
In the early part of the previous century, Wigan was home to the Wigan Coal & Iron Company - the biggest colliery owner on the Lancashire coalfield.
Up to 10,000 people were employed in the mining industry but also at the Kirkless iron and steel works.
According to Mark Champion of the Trust, the post industrial landscape it left behind is now valuable green space.
"Wigan is very lucky," he said.
"It's got 1,500 hectares of land in the green heart which makes it the greenest urban borough in the country."
Orchids and wintergreen
Wigan is famous for its Flashes - flooded areas of mining subsidence which are home to wetland species.
But according to the Trust, the high ground above Ince is also inhabited with a number of plants not normally seen inland.
Mr Champion said: "It contains a certain amount of salt left over from the smelting process and that makes it ideal for some of the plants that you associate with coastal areas.
"These are mainly species like some of the orchids, some yellow daisies, and wintergreen which is normally found on the dunes."
The trust's announcement follows the release of the government's Natural Environment White Paper which outlines the government's vision for the natural environment over the next 50 years.
The paper also concludes that the health benefits of merely living close to a green space are worth up to £300 per person per year.
Mr Champion confirmed that the Kirkless nature reserve above Ince would be used for walking, cycling and horse riding as well as protecting nature.
"I think we all appreciate having green spaces and people appreciate the economic benefits to health and well being."