Hoy nominates Manchester coach Geoff Cooke as torch runner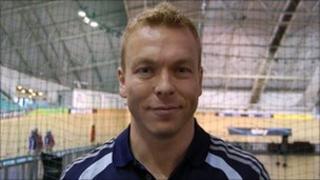 Cyclist Sir Chris Hoy has nominated Manchester-based former national cycling coach Geoff Cooke to be a London 2012 torch relay runner.
The four-time Olympic track champion described Mr Cooke from Crumpsall as an "unsung hero" of British cycling, who had helped him and others to success.
Sir Chris is leading the call for the public to nominate people to be among the 8,000 torch-bearers.
He said he wanted to see nominations for people who "made a difference".
A Carry The Flame website has been set up to enable people to submit nominations.
Each of the nominated torch-bearers will run a mile during the 70-day relay.
'Truly honoured'
Speaking about Mr Cooke, who was the national coach for 10 years, Sir Chris said: "You will never meet a person more enthusiastic and passionate about his sport; always smiling and always keen to encourage people to enjoy riding their bikes.
"He helped out on many of my training sessions in earlier years and is one of the unsung heroes of British cycling over the last 50 years."
Mr Cooke, 66, who represented Britain at Olympic level and who still coaches as a volunteer at the National Cycling Centre in Manchester, said he was "overwhelmed" by his nomination.
He said: "The thought of being part of the London 2012 Olympic torch relay is so exciting and I'm truly honoured to have been nominated to participate.
"I shall be keeping my fingers crossed that I am selected."