Manchester marchers in 'SlutWalk'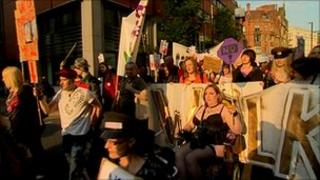 The latest "SlutWalk" in the UK has taken place in Manchester by women standing up for the victims of sexual assault.
The global series protests began in Canada in April when a Toronto police officer said women should avoid "dressing like sluts" to avoid attacks.
The Manchester SlutWalk Facebook page attracted 2,000 supporters.
The Manchester walk followed similar protests in Glasgow, Edinburgh, Newcastle and Cardiff.