Views wanted on £134m police cuts in Greater Manchester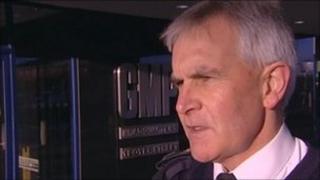 Greater Manchester Police are to ask local people where they would make policing cuts to save £134m.
Chief Constable Peter Fahy and police authority chairman Paul Murphy have arranged meetings at town halls across 10 Greater Manchester authorities.
The force says it needs to lose a quarter of its 12,000 staff by 2015 after funding was cut by 4%.
Plans under discussion include reducing patrols and station opening hours.
The first meeting will be held at Stockport Town Hall on Wednesday.
'Tough decisions'
Mr Fahy said: "This is going to be a very difficult year and it is crucial we involve the public in our decisions.
"We want to show how we spend our money at the moment and how the way we serve the public will have to change given the enormous size of the funding gap."
Councillor Murphy, chairman of Greater Manchester Police Authority, said: "We recognise that the public are rightly concerned about how budget cuts will affect their police service.
"Tough decisions have and will be made but we need to make sure we continue to listen to the public of Greater Manchester and involve them in the challenges we face - this is what these events are about."
More than 500 police posts were shed in May in support areas such as IT, human resources and catering.
A further 500 operational roles including call handlers, forensics staff and public protection posts will be lost before the end of 2012.
A total of 1,387 officers and 1,557 civilian posts are expected to be shed by 2015, GMP said.
Earlier this week Mr Fahy said he wanted his officers to be driven by doing "the right thing".
He urged them to use their common sense over the need to follow established policies and procedures.
He said that he would back them if they judged that a situation did not require time-consuming administration procedures.