Car thief takes ill Knutsford girl's oxygen supply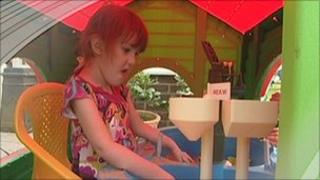 The father of a seriously ill five-year-old girl who had her oxygen machine and medical notes stolen with a car have appealed for their return.
Sophie Jackson, of Knutsford, Cheshire, who was born unable to swallow, is due to undergo spinal surgery at the Royal Manchester Children's Hospital.
The items were inside her father's Mitsubishi Shogun car when it was stolen from her school car park.
The silver car was taken from Peover Superior School at 1510 BST on Friday.
Mr Jackson said his daughter had undergone numerous operations to help alleviate her condition and that their copies of her medical notes were essential to help save time when dealing with different consultants.
Heart attack
"There are copies at the hospital, but they are not collected together in one place as ours are, and it can delay things for Sophie," said Mr Jackson.
The family managed to replace Sophie's oxygen machine and a suction pipe with new ones from the hospital, but she was left without them for five hours, causing her discomfort.
Sophie requires oxygen daily and is fed through a tube.
She is about to undergo a second operation to have a rod inserted in her back to help alleviate curvature of the spine.
In the past she has suffered a heart attack, pneumonia and a collapsed lung.
Mr Jackson, 54, a construction project manager: "We really need to get the notes back because Sophie's health is changing every week and we need everyone involved in her medical care to understand her history quickly."
The silver four-wheel drive car has the registration number LG04 XPW. Cheshire Police are investigating the theft.