Wigan's Haigh windmill restored with lottery award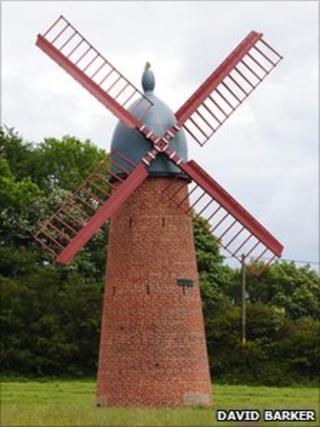 Greater Manchester's last surviving windmill has been saved from dereliction following a £60,000 restoration project.
The Haigh windmill, near Wigan, has been a local landmark for more than 160 years but has been disused for decades.
Work to repair the damaged bricks and missing sails, which began earlier this year, has been completed with the help of Heritage Lottery funding.
It will be officially opened in August, as part of the annual Haigh Show.
Built in 1845, the Haigh windmill is, in fact, a wind pump that was originally used to pump water to the reservoir at Haigh Brewery.
Its working life came to end in the 1930s when the brewery closed.
'Iconic building'
However, thanks to the award of lottery funding, one of the country's few professional millwrights, Vincent Pargeter, was given the job of reviving the mill.
Although the restoration is decorative rather than functional, Councillor Kevin Anderson, of Wigan Council, said it was important to conserve the region's only surviving windmill for future generations.
"It has been disused for decades but the windmill is an iconic building that adds much to the rural scene in Haigh," he said.
"It's great to see it back, and we are fortunate to have had successful funding to ensure the millwright can successfully restore the mill."
The council has also used the restoration project to teach local children about its history, wind power and food production.
The newly-restored windmill near Haigh Country Park will be officially opened on 21 August.
It will coincide with the popular Haigh Show which will see the opening of a new windmill trail and information display.