Ricky Hatton backs plans for Oldham community gym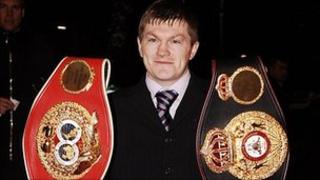 Former boxing champion Ricky Hatton said plans to convert a derelict building in Oldham into a gym will give a "boost" to the local community.
Oldham Council have given the disused Victoria House on Greaves Street to the Oldham Boxing and Personal Development Centre (OBPDC).
The plan is to turn it into a community hub, something which Mr Hatton praised.
He said he knew "what a boost schemes like this can give, as they provide opportunities for the whole community".
Mr Hatton, who runs a gym in Hyde, Greater Manchester, said the project had "my full support because not only is it providing the people of Oldham with state-of-the-art fitness and learning facilities, but it is also breathing new life into a building that has been empty for years".
"As a gym owner, I know what a boost schemes like this can give an area as they provide opportunities for the whole community to take advantage of," he said.
"I would like to congratulate Eric [Noi, club leader] and his team for the good work they are already doing in Oldham and would urge the local community, organisations and businesses to get behind their efforts, so the plans for Victoria House can get up and running."
OBPDC had been searching for a new home after a Compulsory Purchase Order was served on their existing gym on Derker Street, as part of Oldham Council's Derker Housing Market Renewal scheme.
Having secured Victoria House from the council, the club are now working with the Amateur Boxing Association of England to secure funding to refurbish the building and want to open it by the end of 2011.
Oldham councillor Dave Hibbert said the authority was committed to helping the club and centre transform the building.
"We are delighted to have found the centre and its many users a new home," he said.
"Once work on Victoria House is completed, it will be a real asset and yet another building block in the town centre's regeneration."
Victoria House was used as a snooker hall, college and housing office for the council before closing in 1999.