Manchester prepares for second city parade celebration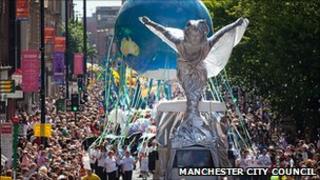 A galleon, a giant dragonfly, a huge tree with mechanical birds and Gulliver are preparing to take part in the second Manchester Day Parade.
The characters are amongst those featuring in the event, which organisers say will be "bigger and better" than 2010's procession.
Last year saw 40,000 people line the streets of Manchester to watch.
This year's parade, which has the theme 'Voyage of Discovery', takes place on Sunday 19 June.
The second Manchester Day follows on from the success of the 2010 event which it is claimed brought more than £4m into the city.
More than 1,800 people entertained the crowds dressed in spectacular costumes for last year's theme, Out of this World, and the council say even more will be involved this year.
Organisers say there will be 50 new groups taking part on Sunday, including dance troupes, youth groups, musicians and charities.
Amongst the sights to see in the parade will be a galleon surrounded by waves, a giant dragonfly, a huge tree complete with mechanical birds and the literary figure Gulliver being carried aloft.
Pat Karney, chair of Manchester Day, said participating groups would be focussing on Manchester's own voyages of discovery, from science and sport to land, air and sea.
"In our first year, the Manchester Day Parade surpassed all expectations and set the foundation for a fantastic annual event in the city.
"We are expecting bumper crowds to make the event and atmosphere even more spectacular."
The council is warning motorists to be prepared for road closures in the city centre for the majority of Sunday.
The major disruption is on Liverpool Road, which will see the stretch from Potato Wharf to Deansgate being closed from 0600 BST until 2359 BST in both directions.
The parade, which will follow a winding route around Deansgate, will also lead to road closures in both directions between 1200 BST and 1900 BST in the surrounding roads.