Drink driving GP Donald Clegg 'was sleep walking'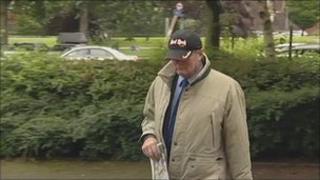 A doctor from Greater Manchester has been banned from driving after he admitted to drink driving while he was asleep.
GP Donald Clegg, 59, was involved in a crash in Bury New Road in Prestwich in December. He was found behind the wheel in his dressing gown and slippers.
Bury Magistrates' Court heard that the sleepwalking meant Clegg, of Prestwich, was not conscious of his actions.
But the bench banned him from driving for 12 months.
He had admitted driving with excess alcohol and without due care and attention but only because of his state of "parasomnia".
'Special reasons'
Clegg was almost four times over the limit when he got out of bed and into his car on 8 December.
He drove for a mile while still "asleep" before crashing into parked cars. He was talking incoherently about driving to his mother's house when bystanders snapped the car key in the ignition to stop him driving away again, the court heard.
The GP claimed the first he knew of the incident was when he woke up in a police cell.
The prosecution did not dispute Clegg was sleepwalking.
Clegg's lawyer asked the court to use "special reasons" to suspend any driving ban - normally automatic for drink-driving.
A breath test showed he had 127 microgrammes of alcohol in 100 millilitres of breath. The legal limit is 35 microgrammes.
Such a reading normally attracts a driving ban for about three years and possibly a short jail term.
But magistrates banned him for a year, fined him £650 and ordered he should pay £300 in costs and the £15 victim surcharge.
Jean Hinkley, chair of the bench, told Clegg: "We take into account you had been drinking heavily, evidenced by the high reading, and driving some distance on a major road, an accident occurred and you posed a significant risk."
'Not conscious act'
Clegg had been to a restaurant with his wife had drunk "two or three" pints then carried on drinking at home before the sleepwalking episode, the court heard.
He had driven some distance "perfectly normally" when he suddenly veered into the on-coming carriageway, then clipped two cars before crashing into a third vehicle, coming to a stop.
Gwyn Lewis, defending, told the court the defendant had been a motorist for 40 years without incident.
"This is not a conscious act by the defendant to drive a car knowing he was over the legal limit," Mr Lewis said.
"Would it be fair in these particular circumstances for him to be disqualified from driving?"
But Dominic Howell, prosecuting, said alcohol could induce sleepwalking and Clegg's drinking was a contributory factor to events.
He said there had been a previous incident, eight months earlier, when Clegg had been drinking, began sleepwalking, and crashed his car into a tree in his driveway.
He admitted that episode had not stopped him drinking.
"I did not think I would do it again," he said.
"That's the first time I had ever left the house in one of these parasomnia, sleepwalking episodes."
He told the court his wife now kept the car keys locked away.