Greater Manchester's hidden paintings revealed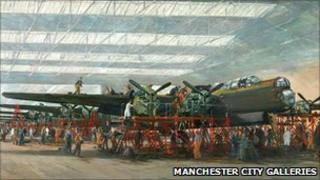 Hundreds of paintings hidden from view in Manchester are being displayed online as part of a major new project.
Of the UK's 200,000 publicly-owned oil paintings, less than a fifth are on show at any one time.
The Your Paintings website is being launched on 23 June to make all these artworks accessible by the public.
In response to the initiative, a number of war paintings are being displayed at Manchester Art Gallery for the first time since the end of World War II.
Aware that history was being made on his doorstep, the gallery's wartime director Lawrence Haward encouraged local industries to commission artists to chronicle Manchester's war effort.
Sixteen paintings were made but all have lain forgotten in the gallery's stores until now.
Three of the works - including Charles Cundall's 1944 painting Avro Lancaster Bombers at Woodford (above) - are being displayed in the Modern & Contemporary gallery over the next two weeks.
'Fantastic treasures'
This artistic treasure trove, which records an important chapter in Manchester's recent history, illustrates a dilemma facing gallery curators: what to display and what to leave in store?
With 26,000 works of art, Manchester Art Gallery's Principal Manager of Collections Ruth Shrigley said it was a constant challenge, brought sharply into focus by the gallery's £35m redevelopment.
"Before it re-opened [in 2002], we had a blank canvas," she said.
"But our strongest motivation was that we wanted artworks with a strong narrative, to tell a clear and interesting story to our visitors."
Other factors must also be considered, she explained. The size of the painting, its visual impact, its relevance to other art works as well as its condition.
"For instance, our largest painting - The Birth of Pandora by James Barry (5.2m x 2.8m) - can only go on one of four long walls," said Ms Shrigley.
"So, I wouldn't say it's a science, but there's definitely an art to it."
Adding: "People always assume that we have these fantastic treasures in store.
"And, while they are treasures in their own right, there are pictures in store which we might choose not to put on display."
Watercolours, explained Ms Shrigley, as well as etchings and engravings deteriorate if they are exposed too much to light.
Public favourites
But with publicly-owned art, how much does the gallery take into account public opinion?
"We try to make sure we put on display the paintings which are the favourites amongst our visitors," added Ms Shrigley.
"We do have a list of over 100 paintings which, we know, are the ones people really want to see," she added.
Manchester Art Gallery's collection is searchable on its own website, however, many hidden paintings cannot be viewed as no image exists.
In pictures: Hidden paintings of Greater Manchester
The Public Catalogue Foundation (PCF) is continuing its task of photographing all 200,000 publicly-owned oil paintings by the end of 2012.
These will be shown on the BBC Your Paintings website, launched on 23 June.
Local collections catalogued so far include: Gallery Oldham; Rochdale Arts & Heritage Service; Saddleworth Museum and The Rutherford Gallery.
Its aim is to improve public awareness of the oil paintings they own but, in most cases, cannot see.
Watch Hidden Paintings of the North West: BBC One, Sunday June 26th, 2225 BST.