Salford homeless men fear hostel closure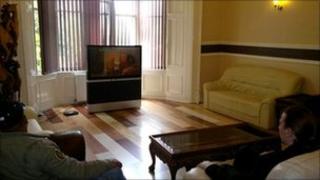 Homeless men living in a Salford hostel fear they could end up back on the streets if a plan to stop funding it goes ahead.
Salford Council is considering withdrawing funding from Lancaster House, Eccles, which is run by the charity Positive Lifestyles.
A council spokesman said no firm decision had been made on the funding.
The 38-bed hostel could close as a result of the Labour-run council's budget cuts.
Lancaster House receives its main funding from the council.
However, resident David Allum said any closure sparked by the withdrawl of funds would stop homeless people from rebuilding their lives.
The 23-year-old, who has lived in the hostel since March, said: "It's made a massive difference, when I came here I was very low."
Mr Allum, who lost his job due to depression and his flat due to gambling addiction, said staff at the hostel have helped rebuild his confidence.
'Vulnerable people'
"I've had a counsellor to help me work through various issues while the staff have helped me with my debts," he said.
In a statement, councillor Peter Connor, Salford Council's lead member for housing, said: "We are currently reviewing the services we commission for single homeless and vulnerable people.
"Lancaster House is being considered as part of this programme, but no decision has been made on its future.
"Our main priority is the welfare of the people who use this facility and we want to be sure that they're getting a high quality and value for money service in a well-maintained building.
"We're committed to ensuring people have good housing options available to them whatever the decision on individual schemes."