John Montegrande's journey from street to screen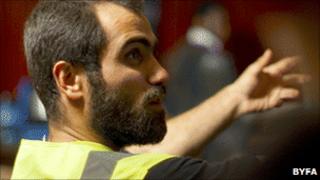 Five years ago, John Montegrande's life had gone "off the rails".
He was trapped in a cycle of drugs and homelessness, sleeping on buses and addicted to crack cocaine.
Yet there was something that kept him going - a desire to make films.
Impressively, the 26-year-old from Manchester has not only fought and won his personal battles, but also made his dream come true.
Having co-directed a previous feature, an adaptation of William Shakespeare's Julius Caesar, Mr Montegrande is about to start on his solo debut - another reworking, this time of Richard II.
He says he knows many might think his own journey from the streets to the screen was worthy of filming - but he is not keen on that prospect.
"The idea of taking my story and saying: 'This is worth everyone watching' is not something I'm raving about," he says.
"But who knows? If nothing else, it's a story that hopefully teaches people that if you're willing to try harder than you've ever tried before, it is possible."
The director has come a long way since his "wayward stage".
He says his problems began when he enrolled at Manchester Metropolitan University's School of Theatre in 2004.
After half a term, he dropped out, re-enrolling in 2006 only to leave the course again.
He says "the drugs, initially, were recreational and a way of me escaping my situation.
"Inevitably, that became worse, because I didn't have anything else in my life to latch on to."
He soon found himself homeless, sleeping on friends' sofas.
He said: "I used to buy a day ticket for the buses, which meant I could travel round all day".
"It was like getting a hotel room for £3.50.
"I'd travel around and sleep and be up during the night.
"There was a time when I went out to rural areas.
"I remember sleeping in a chicken coop at a house where no-one was living any more."
He says that there were times that he feared for his safety, as "when you are living an unstructured life, you are always in unfamiliar territory with unfamiliar people", but that it was waking up in the coop which made him reassess his life.
'Shining beacon'
It spurred him to seek help from his former college lecturer, Andrew Walkington.
He had previously worked with Mr Montegrande at a British Youth Film Academy (BYFA) summer camp and, knowing his ex-student's drive to work in film, he offered his spare room and a job as an assistant with the BYFA.
Mr Montegrande says it was the start of a lot of hard work, both personally and professionally.
"Andrew knew that, underneath it all, my heart was in the right place, that I was willing to try.
"I started to get my life back on track, but when you're on those kind of drugs it doesn't happen overnight.
"It did take a long time to sort myself out."
His hard work paid off though, as in 2010, Mr Montegrande was offered the chance to co-direct the adaptation of Julius Caesar, and "from the success of that project, the BYFA offered me an opportunity to direct a feature on my own".
He says he owes a lot to the BYFA and that it was the thing which kept him going in his dark times.
"There was always this shining beacon - a place where I knew there were like-minded people, people coming from similar backgrounds and problems, also fighting to find their way."