Salford burglar death: Man released without charge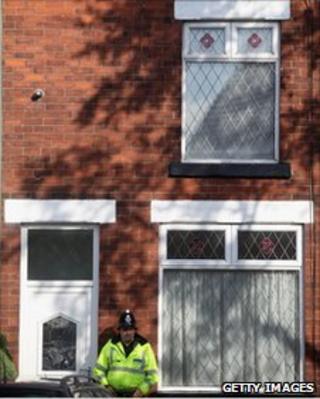 A man arrested after a burglar was stabbed to death at a house in Salford has been released without charge.
John Bennell, 27, of Hyde, was stabbed in the chest after an attempted break-in at the house in Ethel Avenue, Pendlebury, late on Wednesday night.
A 30-year-old man from Tameside questioned on suspicion of burglary was released without charge on Saturday.
Householder Peter Flanagan, 59, who was arrested on suspicion of Mr Bennell's murder, has been bailed until 25 July.
Mr Flanagan's 27-year-old son Neil and his son's 21-year-old girlfriend were also arrested but have been released without charge.
Police were first alerted to a break-in at the terraced house just before midnight on Wednesday, then received a second call to reports of an injured man being carried along the street nearby.
Four masked men had attempted to get into the house before Mr Bennell was stabbed and it is believed he was carried away from the scene by the other intruders before being left in nearby Hospital Road.
He was found by police and taken to hospital where he died a short time later.
Greater Manchester Police are urging anyone who knows the whereabouts of those responsible for the break-in to contact them.